Non-Insulated Patio Cover Diagram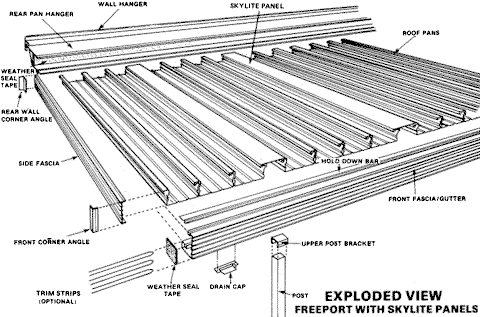 Models
Aluminum flat pan roof panels as shown, with or without skylite. All connection system parts extruded, hanging rail assembly (wall hanger, rear pan hanger), front 5″ fascia gutter, 5″ side fascias (without gutter), full hold down bar, corner trim angle and drain caps. All hardware included for assembly of patio roof.
Colors
White roof flat pans with white extruded connection system.  Gutters and side fascia available in White, Brown and Sand.
4″ Skylite Panels
Available in translucent White.
Optional
Posts or columns must be ordered separately.
There is a Wrisco Patio Cover for every style of home
Wrisco pre-engineered Patio Covers are designed to suit a variety of site, roof and residential conditions. Your Wrisco dealer is uniquely qualified to assist you in planning a custom room enclosure to harmonize with your home and family requirements.
A Wrisco Carport can protect your car and add value to your home
Freestanding or attached, a Wrisco carport will beautifully and economically protect your car from the harmful effects of sun, rain, snow and other extremes of weather. Wrisco carports are available with optional skylights in a variety of sizes and configurations designed to tastefully complement your home surroundings.