Mill Finish Aluminum Sheet Metal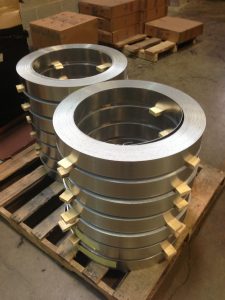 With more than 50 in-stock colors to choose from in Wrisco's colored and finished aluminum sheet selection, one of our top sellers happens to be the aluminum sheet metal that isn't finished. Technically, mill finish aluminum or mill finished aluminum, has the finish that it came off the mill with, so it doesn't have an actual finish. That doesn't mean mill finished aluminum isn't attractive and doesn't have its purpose.
The reason mill finished aluminum sheets are one of the top sellers is because it is less expensive to produce and can be used for a huge number of applications. At Wrisco, we're the number one provider of mill finish aluminum in the United States and beyond.
Wrisco's Mill Finished Aluminum Sheet Size Options
Our mill finished aluminum sheets come pre stocked in more gauges than any of our colored pre-painted aluminum sheet metal options. Listed below are the available gauges, but if we don't have what you need in stock, we welcome custom width, length and gauge inquiries.
Mill Finish Aluminum – Available in .024, .032, .040, .050, .063, .080, .090, and .125
We use industry leading equipment and machinery to guarantee metal excellence on each and every one of our products. All of our mill finished aluminum comes leveled, sheeted, blanked and slit.
Do You offer Pre-Finished or Colored Aluminum Sheet Metal?
Yes. While our mill finished aluminum will work for a majority of projects, we do offer a ton of options when it comes to pre-finished aluminum sheet metal. If your project requires aluminum sheet metal in a color other than what we have available, we accept non-stock color requests. View our color chart here.